Lots of people received knitted gifts from me this year. It was such a joy to knit for so many of the loved ones in my life!
My dad got these Lithuanian socks, knit from Nancy Bush's pattern in
Folk Socks
using Elsebeth Lavold's silky wool. Dad is 50% Lithuanian, and I've wanted to knit these, or something that would speak to our Lithuanuan heritage, since his dad, my Papa Tony, passed away this past February. The picture shows the pair unfinished, but by now both socks have been given: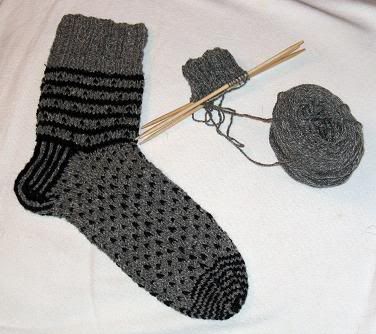 My brother's girlfriend, Kristyn, got a Sophie bag knit from Lopi. The burgundy color was actually a variegated yarn with flecks of the teal, but they disappeared during the felting process. Also, I used an I-cord bind off and like the more stable top edge.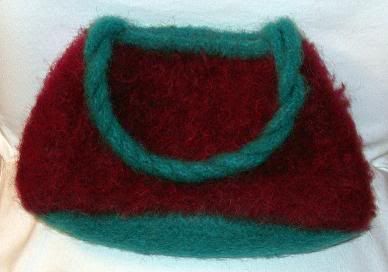 My mother-in-law got these cool flower-petal washcloths. The pattern is in
Weekend Knitting
and, for once, I got to use the yarn that the pattern called for - 100% cotton chenille from Crystal Palace. I left one as a sample with my LYS and inspired sales of several books and yarn! I have a a bunch of colors and plan to make them as thank you and hostess gifts, given with a bar of nice soap. Each one took about 4 hours to knit, and the pattern was easy to memorize.
My brother got the coolest present, custom designed for him. He's admired the Norwegian mittens that I made after a knitting workshop with Beth Brown-Rensel (author of
Knitting Ganseys
, so I wanted to make him something along those lines. The skull is of my own design, since nothing I found in books or on the Internet were quite right. I needed a specific number of stitches to fit the pattern, both in width and height. I used a bulky-weight yarn to fit my brother's large hands without completely changing the basic pattern that I had to work with. They are knit with Berocco's Pleasure (angora and merino) and wow is that nice yarn to work with! I'll share the skull chart here soon.
Shot of the back and thumb:
More gifts to be posted soon!